2005 Sunless Shortlist
Top 15 Albums of 2005
15. Wolf Parade -
Apologies to the Queen Mary
I fell into the hype surrounding this album. All the comparisons to Modest Mouse, or basically anything currently Seattle, are correct. Good stuff for just a debut. Can't wait to hear where it goes from here.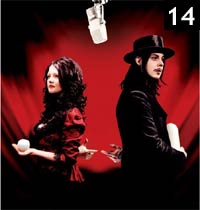 14. White Stripes -
Get Behind Me Satan
Jack White's a sellout prick....whatever. Still can't go wrong with anything White Stripes. I didn't like this one as much as
Elephant
, but still great nonetheless.
13. Gorillaz -
Demon Days
I love anything Damon Albarn. I can't help it.
12. John Vanderslice -
Pixel Revolt
Vanderslice is easily one of the best talents in the industry right now. Be it in front or behind the microphone, he's brilliant.
Pixel Revolt
may not be quite as good as
Cellar Door
musically (too many bleeps and bloops), but it is an incredible step forward in his songwriting.
11. Smog -
A River Ain't Too Much to Love
Great year for
Drag City
. Great stuff from Smog, Silver Jews, and Bonnie "Prince" Billy. I didn't even get Joanna Newson's album, but I've heard it and love it. To me, and I know nobody else will agree, the new Smog is the best of the batch.
10. Fiery Furnaces -
Rehearsing My Choir
Fuck Pitchfork.
They don't know what they're talking about. Get this album, it's great.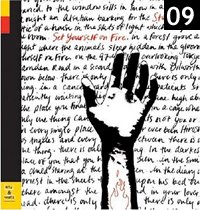 9. Stars -
Set Yourself on Fire
This year is the birth of
Arts & Crafts
for me. So much great stuff released this year. Canada kicks ass!! Forget pop/punk. This band is straight pop music with a punk attitude. I love it.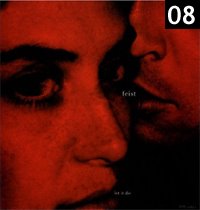 8. Feist -
Let it Die
Broken Social Scene sounds horny. Feist sounds sexy. I forced myself to like this album by pounding it into my head all through my vacation, and it worked.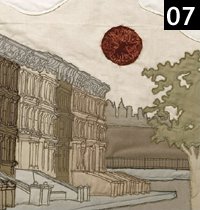 7. Bright Eyes -
I'm Wide Awake, It's Morning
Conor did plenty to piss me off this year, but I can't deny his talents. Just lay off John Peel, you asshole.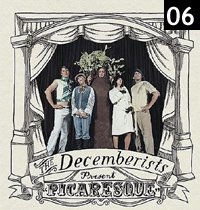 6. Decemberists -
Picaresque
Okay, so I've never been huge on the Decemberists. I liked them, but not too crazy about them. I picked this one up recently, however, and it's barely left my car since. It gets my blood flowing at 3:30am on the way to work to yell out pirate songs.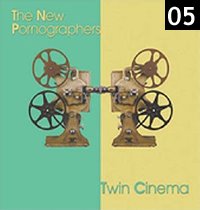 5. New Pornographers -
Twin Cinema
More Canadians! A pop masterpiece.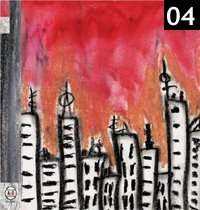 4. Broken Social Scene -
S/T
Okay, the last of the Canadians on this list. I don't know what's going on up there, but they are putting out some kick ass shit! Broken Social Scene's newest sounds like a jumbled mess at first, but the fun is in the challenge of figuring out the melodies buried in noise.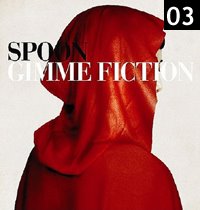 3. Spoon -
Gimme Fiction
Britt Daniel is my hero. He can do no wrong...and only keeps getting better. It took a
looong
time for this one to grow on me compared to their earlier stuff, but I get it now and it's their best yet.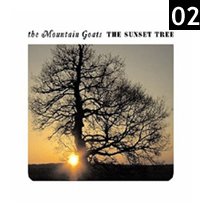 2. Mountain Goats -
The Sunset Tree
John Darnielle's first attempt at non-fiction is a masterpiece. This albums hits me on so many levels, it's scary.....even though I can't relate to anything on it. That's a hell of a writer.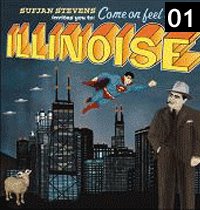 1. Sufjan Stevens -
Illinois
I just cannot burn myself out on this album. I've listened to it so much that I should be ambivalant to it, but that still hasn't happened yet. It's all things beautiful and bizzare. So much has been written about this album that I can't add anything. All the praise that Sufjan has received this year is well worthwhile.
-----
Most Disappointing Album of 2005
Death Cab for Cutie -
Plans
No brainer here. I love Death Cab, but they really lost me on this one. Just because you are now signed to a major label doesn't mean you have to sound like any other major label band. Get over it. I could've put the new Weezer here, but I didn't expect it to be good at all.
-----
Looking ahead to 2006, I expect good things....and quickly. New Strokes, Belle & Sebastian, and Bob Pollard's double album are all here within a month. Plus I'm looking forward to some new Wilco, with some possible new Loose Fur and Golden Smog being teased. I keep hearing about some new Flaming Lips, but I've been a fan long enough to know to wait and see. Should be a great year!!
|